Site Index, Search, Glossary.
Updated 10 July 2021, flagged by <$
Home > System Components > MSR Complex >
MSR Admin / Housing Areas >
Admin/Housing Photo Galleries > Food Service
MSR Admin/Housing Areas Photo Gallery
Food Service
Photo Sources:

Snnn:

Scott Murdock's 2013 trip report North in November (new window)
(GSA tour for prospective SRMSC buyers.)
Copyright © 2013, Scott D. Murdock. Used with permission.

0nnn:

Anonymous WECo engineer

7nnn:

006nn,
008nn:

SRMSC webmaster

046nn:

(opens in a new window)
Enlisted Mess
Food service for installation and test personnel was probably provided in the future enlisted mess hall.
00610: The buff colored building (partially hidden) just to left of center was the enlisted mess hall.
04603: Closer view of the enlisted mess from the second floor of the enlisted quarters.
0105: Far right: Ernie Weinberg.

He was Raytheon site supervisor.
Officers' Mess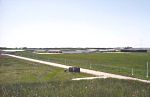 00813
(M)
00813: The officers' quarters (BOQ) is the dark building on the extreme right. The smaller dark building on the near side of the BOQ was the officers' mess.
Community Center Cafeteria / Snack Bar